HISTORY: THE MONTFORD POINT STORY
The " Mighty 51st" Defense Battalion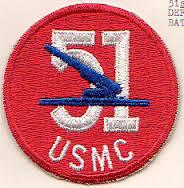 The first African-Amercan combat unit in the Marine Corps was the 51st Defense Battalion initially designated in June 7, 1943 whose principle armament became the 90mm antiaircraft weapon. On August 18, 1942, Col. Samuel A. Woods activated the nucleus of the 51st Defense Composite Battalion becoming the first Marine officer to command a unit of African-Americans. The outgrowth of various re-designations such as the 153mm Gun Battery which expanded to the 155mm Artillery Group with its machine gun group becoming the Special Weapons Group resulted in the inclusion of the 20mm and 40mm cannon and .50 caliber machine guns. Titles of these units changed and the word "Composite" was dropped from the name to accommodate the Marine Corps table of organization for defense battalions whereas the 155mm Group became the Sea Coast Artillery Group and the 90mm Antiaircraft Artillery Group.
The 51st Defense Battalion Surpassed USMC Gunnery Records on the 90mm Anti-Aircraft Weapon
Members of the 51st Defense Battalion underwent intensive training on weapons and a myriad of equipment including fire control equipment, and searchlights. While training, the Montford Point Marines surpassed all standing Marine Corps gunnery records under the leadership of GSgt Henry, a native of Detroit, Michgan. During firing exercises, in the presence of the Secretary of the Navy Knox, and General Thomas Holcomb, they had the distinct experience of first hand observation of the Montford Point Marines as they fired the 90mm Anti-Aircraft weapon at a sleeve target towed through overhead airspace, and hit the moving target within 60 seconds. Not only could they make direct hits on the target, but also on the dollies that pulled the sleeves targets. This performance was never matched by other anti-aircraft weapon units at that time. One of the first black Marines to make rapid advancement through the ranks of the Marines Corps, was a Marine named Henry Baul who resides in Detroit, Michigan, was promoted to the rank of Gunnery Sergeant and commanded operations in the 90mm anti-aircraft gun pit, belovingly known as "Top Gun".
In May,1991, Mr. Henry Baul along with other co-founders Joseph Burrell, and Edsel Stallings, co-founded the Montford Point Marine organization in Detroit, Michigan. In May 16, 2008, the second highest ranking African-American Lieutenant General in the Marines Corps, Lt Gen. Ronald S. Coleman personally invited GySgt. Baul (accompanied by Robert Middleton) to Washington D.C. to be honored with distinction, at the Evening Parade at Marine Corps Barracks, 8th & I St.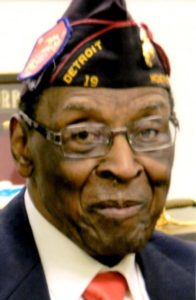 Baul receives Honors from Lt.Gen Ronald S. Coleman
On February 1944, the 51st embarked aboard a merchant transport ship; USS Meteor, at San Diego sailed for the Ellice Islands to provide a garrison for Nanomea Island. Later the 51st Defense Battalion; moving by landing ship and submarine chaser, disembarked at the island of Funafuti under the command of Colonel LeGette to set up outpost at Nukefetau.