THE MONTFORD POINT MARINES AT SEA IN THE PACIFIC WAR THEATRE
Map of the Pacific War Theatre WWII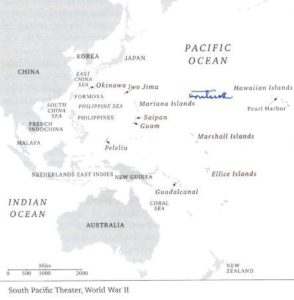 Black Marines Prove their Mettle in Combat
The Battle of Saipan
Montford Point recruits saw combat as members of ammunition and depots companies that supported amphibious landings on some of WWII's bloodiest beaches, including Saipan, Peleliu, Iwo Jima, and Okinawa. Ammunition carriers and depot company personnel became riflemen, who engaged the enemy, at time in hand-to-hand combat.
At Guadalcanal in 1942 the American's broke through the Japanese outer defense ring; but winning the bloody battle at Saipan meant that Americans had broken through the Japanese inner defense ring, and may have been the key turning point of WWII in the Pacific. Japanese Prime Minister Hideki Tojo resigned at the news of the loss of Saipan. Their Vice-Admiral Shigeyoshi Miwa stated that; "our war was lost with the siege of Saipan.
After the battle of Saipan, Lieutenant General Commandant of the Marine Corps, Lt. Gen. Alexander Vandergrift said, "the Negro Marines are no longer on trial. They are Marines, period. The Montford Point Marines earned further recognition when the Detachment, 7th Field Depot (the 18th, 19th, and 20th Marine Depot companies and the 3rd Ammunition Depot company) were included in the Presidential Unit Citation
which was awarded to the 4th Marine Division, Reinforced. They were honored for outstanding performance in combat during the seizure of the Japanese held islands of Saipan and Tinian in the Marriana islands from June 15th through August 1, 1944.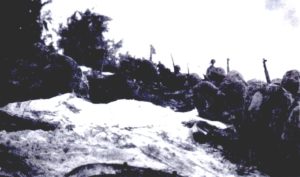 Negro assault troops await orders on D-Day to attack the enemy at Saipan, Marriana Islands,
June, 1944 (National Archives, Wash. D.C.)