Detroit, Michigan is home to "America's Greatest Generation" where during WWII the automotive industry converted its gigantic plants into production of the world's most formidable wartime machine to  Produce warplanes, bombers, tanks, military vehicles, and ammunition in order to fight the "Two Ocean War" against Japan and Nazi Germany. Since that time Detroit has earned the motif "The Arsenal of Democracy".
During that era, America recruited a significant number its very first Black recruits into the United States Marine Corps from the Midwest, including Detroit, Michigan on June 1, 1942 after passage of President FDR's Executive Order 8802 which ended discrimination in the Defense industry and in the armed services of the United States.  The impact on the Marine Corps was that it abolished a 167 year color barrier that denied enlistment of men of color since the American Revolution.where black served in the Continental Marines.
The history about the Marines of Montford Point has been one of America's best kept military secrets until recent years.  Their story is that of the Marines Corps Black "hidden heroes" who were trained at a segregated facility "away from whites" known as "Montford Point" located at New River (MCB) Camp Lejuene, N.C.  This Jim Crow policy against Blacks prevailed until 1949 when President Truman enacted Executive Order 9901 which finally desegregated the Marine Corps.
While in training the Montford Point Marines surpassed all gunnery records for accuracy on the 90mm Anti-Aircraft weapon, and were later deployed to defend islands in the Pacific during WWII. Many Black Marines participated in major combat operations including D-Day at Saipan, the battle of Peleliu, Okinawa, ,and Iwo Jima. The Montford Point Marines on Peleliu were called "Black Angels" by their white counterparts as they rescued them while under fierce enemy fire.
Today, a number of these "hidden heroes" are still active participating members of the Montford Point Marines of America, Inc and remain to give their first-hand accounts that dispel all myths "that no Blacks fought in combat during WWII". They can personally tell you their experiences in the Battle of Saipan, Invasion of Peleliu, Okinawa, and Iwo Jima.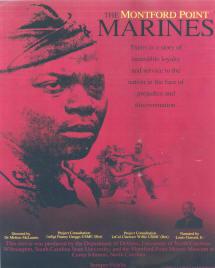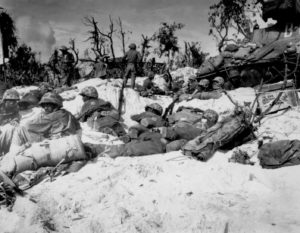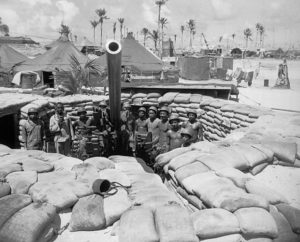 Montford Point Marines in the trenches at Peleliu, Sept. 1944 Black Marines on Iwo Jima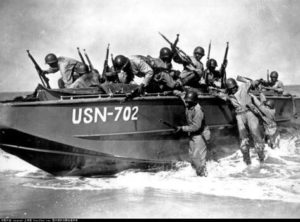 However, Time Magazine war correspondent Robert Sherrod wrote in his article dated July, 1944 that the Marines of Montford Point ranked a 4.0 (Annapolis's highest performance mark of perfection) from their commanding officer Colonel Earl Phillips as they distinguished themselves in combat. Also, in February 1945, Time Magazine News correspondent, Sherrod wrote about a group of Black Marines from the 51st Defense Battalion in the 2nd and 3rd wave to reach the beachhead on Iwo Jima who exhibited bravery and valor while under fierce enemy fire.
Although, initially the Marine Corps did not think men of color would make good Marines, they became some of the finest to ever wear the eagle, globe, and anchor. The Commandant of the Marines Corps, General James F. Amos, National Black Caucus, Repres. Corine Brown (D( FL) and other political activist helped spearhead and lobby congressional leaders to award the Congressional Gold Medal to the Montford Point Marines.
On November 23, 2011 President Barack Obama and the 112th U.S. Congress passed legislation to award the Congressional Gold Medal to the Montford Point Marines of WWII. The U.S. Pentagon has compiled video documentaries of individual accounts of Black WWII Marines and their stories are now archived in the National Library Congress. The pure gold version of the Congressional Gold Medal is kept in the Smithsonian Institute in Washington, D.C.
They are venerated along there contemporaries, the Tuskegee Airmen who are also prominent WWII heroes.
PHOTOS OF THE CONGRESSIONAL GOLD MEDAL CEREMONY WASHIGNTON, D.C. (June 27th-28, 2012)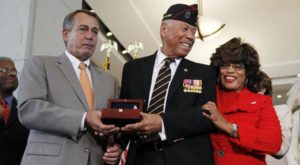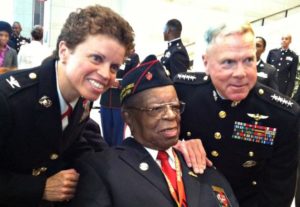 PHOTOS OF THE CONGRESSIONAL GOLD MEDAL CEREMONY WASHIGNTON, D.C. (June 27th-28, 2012)
–